The Perfect Boutique hotel for
your summer staycation
Escape to the Gateway to the Limerick Greenway in the heart of West Limerick.
For the best Room Rates with Breakfast included, please call the Hotel directly on 069 63333.
Extensively refurbished, a real hidden gem in the heart of Munster
Family-run and family friendly boutique hotel backing right onto the Limerick Greenway
Rathkeale House Hotel in West Limerick is under new ownership and has recently undergone an extensive refurbishment with a huge investment all the public areas and a complete renovation of all 26 guest bedrooms!
With new owners Mark & Therese Henry at the helm and along with Therese's sister Ann (who manages the hotel with her fabulous team) they have completely transformed this West Limerick Hotel into a charming vibrant must-visit destination.
Rathkeale House Hotel is and always has been a family owned and run Hotel, each visitor to the Hotel is so important to us, whether they stay in the Hotel or just visit for a bite to eat or even a family  event, it is important to us that you have an enjoyable and memorable visit to the Hotel.
Our team are at the heart of our business and our Guests always enjoy the friendliness of our team, the quality of our food and the comfort of our newly refurbished rooms. If you want to experience Irish Hospitality at it's best a visit to Rathkeale House Hotel is a must as it really is a hidden Gem and a must see destination in the heart of West Limerick.
Check in with us and you can discover all of West Limerick from our hotel, the beautiful village of Adare is just 7 minutes from us and there is so much more to discover. Whether it is leisure or activities you are looking for it is all available from our doorstep.
Rathkeale House Hotel is the home of the Limerick Greenway and it starts at our back door, you can walk from the Hotel right onto the Greenway, Bike hire is also available from the Hotel, your Bike is yours for the day and if you would  like to enjoy a picnic basket, we would be delighted to arrange one for you.
Whether it is a family event or a large function we would be happy to tailor the event to suit your needs, simply tell us what you would like us to arrange for you and we would be glad to assist.  Bespoke cakes, professional Photographers, daytrips from the Hotel or just a personalised Menu, we can make your event special, just simply ask us.
Our guests to the Hotel are our most important to us, our door is always open to welcome you, so until we see you again, stay safe.
Ann and all the Team at Rathkeale House Hotel
Escape To The Gateway To The Limerick Greenway This Summer
Rathkeale House Hotel is the first hotel on the Greenway, step out of our front door and within a couple of steps you are on this fantastic 40km off-road walking and cycling route along an old railway line that connects the three market towns of Rathkeale, Newcastle West and Abbeyfeale in West Limerick. Perfect for families and very safe for kids!
Traversing the Greenway is a spectacular journey through time, heritage and nature, giving the visitor the opportunity to learn more about the people and environment of one of Ireland's hidden jewels, West Limerick. Along this route, close to Ireland's Wild Atlantic Way, you will find Norman castles, abbeys, medieval ruins, old railway stations, a viaduct, the Barnagh Tunnel and breath-taking scenery!
We even offer bicycle rentals and picnic basket hire so you and your family can explore the Greenway at your leisure.
We go the extra mile to ensure your stay with us is memorable!
Bike Hire directly
from the Hotel
We are partnered with a local Bike Hire Company so our guests can hire, collect and return bicycles directly from reception.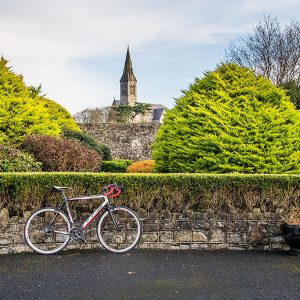 Picnic Baskets & Brunch Boxes
Make sure that you don't go hungry when exploring the local surroundings on your day trips. Enquire at reception.
Enjoy delicious waffles and ice cream, fresh scones or pancakes, all available daily from our on-site Treat Cart. Yummy!
Your four-legged friend is a part of your family and is very welcome to accompany you during your stay with us.
* We have a limited number of rooms at the Hotel that are Pet friendly, Guests are advised to call the Hotel directly to book their pet friendly rooms. There is a charge of €10.00 per night for dogs. Guests are advised to bring their own dog beds and we have our Doggy treat Menu and fresh water bowls available at the Hotel.
Why Choose Rathkeale House Hotel
Set in a quiet location in the grounds of an old orchard, we provide everything you need for a restful staycation.
What Our Guests Say on TripAdvisor!
We loveRathkeale House Hotel , we always get a warm and friendly welcome, rooms are clean , warm welcoming and have great amenities, tea , coffee, great sized towels and... read more toiletries.
Shower water pressure is great .
The food is hot , tasty and homely , good value and delivered by a great bunch of staff .
Great for all kinds of family events. Business meetings and passing tourists .
670alanr


10 December 2022
We had a ladies Christmas gathering and long awaited catch up following Covid. Ann and the team couldn't have done enough to make our night special. The room was beautifully... read more set, tv provided and music. The meal was delicious and Ciara was most attentive to all our needs
Sherpa37059652043


22 November 2022
Had a 2 night stay here Saturday 24 -Sunday 25 th .A group of seven cycling friends.Rooms spotless and very clean staff very friendly from reception to bar staff... read more and waitresses and cleaning staff .evening meals absolutely fantastic service and food ,But sadly have to be blunt here about breakfast it's just not up to standard,one staff on duty did her best to get out breakfast but we waited over 45 minutes and the poor eggs weren't even cooked and all our breakfasts where cold inc the tea .we did let the manager know and she apologised for this mishap! Staff shortages etc .Brilliant hotel apart from the breakfast and hopefully they sort that out Asap maybe even putting a self service buffet for breakfast would help reduce waiting time from kitchen?? Would stay again and best wishes for the future and to all the staff thanks More
eamonw2014


30 September 2022
In May of 2022 I had the fortunate experience of staying 5 nights at the fabulous Rathkeale House Hotel. Everything about the hotel was perfect. It is a beautiful hotel... read more with the feel of a cozy bed and breakfast. My room was beautiful— brand new bathroom! My every need was met with the utmost professionalism but also with a smile and often a laugh! The restaurant is great for meals throughout the day and I always enjoyed mingling with the staff!
If you're looking for accommodations while visiting this truly beautiful area of Ireland, you will be overjoyed!
Cathyfoley25


26 August 2022
Simply fill out the enquiry form and we'll get right back to you.
For the best room rates with breakfast included contact us directly.