The Perfect Boutique hotel for
your summer staycation
Escape to the Gateway to the Limerick Greenway in the heart of West Limerick
Extensively refurbished, a real hidden gem in the heart of Munster
Family-run and family friendly boutique hotel backing right onto the Limerick Greenway
Rathkeale House Hotel in West Limerick is under new ownership and has recently undergone an extensive refurbishment with a huge investment all the public areas and a complete renovation of all 26 guest bedrooms!
With new owners Mark & Therese Henry at the helm and along with Therese's sister Ann (who manages the hotel with her fabulous team) they have completely transformed this West Limerick Hotel into a charming vibrant must-visit destination.
Rathkeale House Hotel is and always has been a family owned and run Hotel, each visitor to the Hotel is so important to us, whether they stay in the Hotel or just visit for a bite to eat or even a family  event, it is important to us that you have an enjoyable and memorable visit to the Hotel.
Our team are at the heart of our business and our Guests always enjoy the friendliness of our team, the quality of our food and the comfort of our newly refurbished rooms. If you want to experience Irish Hospitality at it's best a visit to Rathkeale House Hotel is a must as it really is a hidden Gem and a must see destination in the heart of West Limerick.
Check in with us and you can discover all of West Limerick from our hotel, the beautiful village of Adare is just 7 minutes from us and there is so much more to discover. Whether it is leisure or activities you are looking for it is all available from our doorstep.
Rathkeale House Hotel is the home of the Limerick Greenway and it starts at our back door, you can walk from the Hotel right onto the Greenway, Bike hire is also available from the Hotel, your Bike is yours for the day and if you would  like to enjoy a picnic basket, we would be delighted to arrange one for you.
Whether it is a family event or a large function we would be happy to tailor the event to suit your needs, simply tell us what you would like us to arrange for you and we would be glad to assist.  Bespoke cakes, professional Photographers, daytrips from the Hotel or just a personalised Menu, we can make your event special, just simply ask us.
Our guests to the Hotel are our most important to us, our door is always open to welcome you, so until we see you again, stay safe.
Ann and all the Team at Rathkeale House Hotel
Escape To The Gateway To The Limerick Greenway This Summer
Rathkeale House Hotel is the first hotel on the Greenway, step out of our front door and within a couple of steps you are on this fantastic 40km off-road walking and cycling route along an old railway line that connects the three market towns of Rathkeale, Newcastle West and Abbeyfeale in West Limerick. Perfect for families and very safe for kids!
Traversing the Greenway is a spectacular journey through time, heritage and nature, giving the visitor the opportunity to learn more about the people and environment of one of Ireland's hidden jewels, West Limerick. Along this route, close to Ireland's Wild Atlantic Way, you will find Norman castles, abbeys, medieval ruins, old railway stations, a viaduct, the Barnagh Tunnel and breath-taking scenery!
We even offer bicycle rentals and picnic basket hire so you and your family can explore the Greenway at your leisure.
We go the extra mile to ensure your stay with us is memorable!
Bike Hire directly
from the Hotel
We are partnered with a local Bike Hire Company so our guests can hire, collect and return bicycles directly from reception.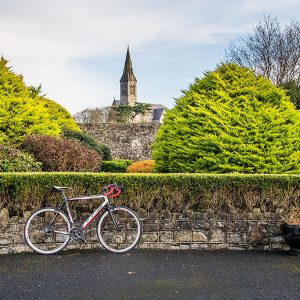 Picnic Baskets & Brunch Boxes
Make sure that you don't go hungry when exploring the local surroundings on your day trips. Enquire at reception.
Enjoy delicious waffles and ice cream, fresh scones or pancakes, all available daily from our on-site Treat Cart. Yummy!
Your four-legged friend is a part of your family and is very welcome to accompany you during your stay with us.
* We have a limited number of rooms at the Hotel that are Pet friendly, Guests are advised to call the Hotel directly to book their pet friendly rooms. There is a charge of €10.00 per night for dogs. Guests are advised to bring their own dog beds and we have our Doggy treat Menu and fresh water bowls available at the Hotel.
Why Choose Rathkeale House Hotel
Set in a quiet location in the grounds of an old orchard, we provide everything you need for a restful staycation.
What Our Guests Say on TripAdvisor!
My wife and 2 year old son found ourselves unexpectedly without housing in Limerick when COVID struck our travel partners. In a pinch, we stumbled into Rathkeale and we're... read more so glad that we did.
The room was totally sufficient - clean, comfortable, just as advertised. But the two owners went out of their way to make sure we were comfortable. When my son was awake with jet lag at 2 am, I stumbled upon one cleaning up as I walked him around; he offered to make me a pot of coffee. On our first night, the folks in the next room over were very loud, which happens; the owners were aghast, dealt promptly with the noise, apologized profusely, comped us breakfast the next morning, and moved us (without our asking) into the honeymoon suite.
None of this was necessary, but all of this was profoundly generous and helpful as we navigated a stressful situation in a foreign country. We're so grateful, and writing this enthusiastic (and honest!) review is the least we can do. More

mosesr963


13 July 2022

Had a faultless communion celebration here on Saturday 7th may. Everything from the table setup to the barman Noel to Ann the lovely lovely host, I don't have enough superlatives... read more to go on - but I think the message here is clear!
If kids could write a review then the the dessert cart would get 5 Stars!!
From Lucy's uncle and grandmother, well done rathhkeale house team!!!

gero2019


8 May 2022

Ann is a super hostess and the rest of the staff are very welcoming too. The breakfast and menu at the bar is great. They'll make you a toastie if... read more you ask nicely Thank you for making our film crew feel at home, Emer

erH2458DH


2 May 2022

Had an amazing time staying in The Rathkeal House for a few weeks while working in Rathkeal. Food amazing, Guinness was brilliant not a single complaint!! The place to stay... read more in Limerick, we left the Clayton to stay here!! 100% recommend. Many thanks to Ann, Brian, Noel and all the staff I'll be back!!!

charliebR2954XH


27 April 2022
Simply fill out the enquiry form and we'll get right back to you.